Mirka® Dustless Sanding System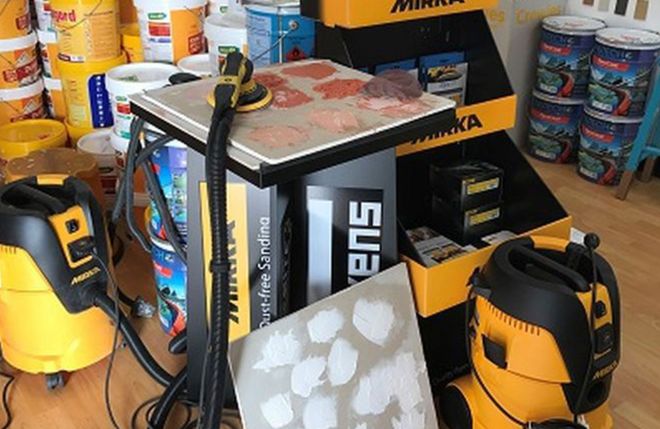 Crowies Paints are proud to be stockists of the Mirka® Dust Free Sanding System and the new revolutionary Abranet® sanding net
Mirka® offers a comprehensive range of powered and non-powered sanding tools and coupled with their revolutonary abrasives and vacuum offers a virtually dust-free sanding solution.
Mirka® sanding tools include a practical hand sanding option with an interchangeable multi profile plate to enable sanding of flat or curved surfaces, the DEROS (Direct Electric Random Orbital Sander) – the first ever electric sanding machine with a brushless motor and no external power supply as well as pole sanding options.
Abranet® is a patented new abrasive technology that is set to revolutionise the industry. It is an open weave fabric net so sanding discs remain cooler, are non-clogging and last up to 5 times longer than conventional paper abrasive discs. Available in 125mm & 150mm discs, because they are open weave, there is no need to line up the ventilation holes in the base plate making the discs suitable for use on any sanding machine. Abranet® is also available in 70x198mm strips for the non-powered hand sander.
Visit your local Crowies Paints store to see the full range of Mirka® sanding tools and accessories.
Share