Importance of Sheen Level and Colour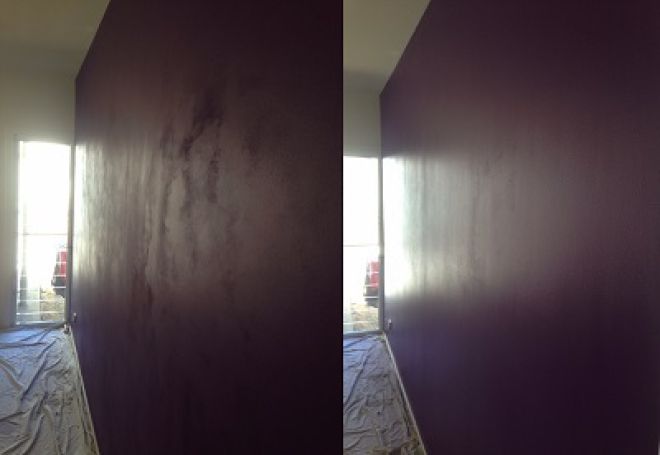 Selecting the right paint gloss level, colour and application tools is extremely important to ensure the success of your painting project. Here are a few tips to consider.
In general, a paint with a higher sheen level is more stain resistant and washable. Unfortunately, the higher the gloss level, the easier it is to observe surface imperfections and patching in the wall as well as any imperfections in painting technique. The visibility of these defects is made worse when a dark colour is selected and the light strikes the surface from a high angle.

The pictures above show the worst possible situation where a dark colour in a higher sheen product has been applied to a wall with a window at the end, allowing the light to strike the wall at a very high angle.

The image on the left shows both the underlying surface imperfections as well as highlighting some inconsistencies with the roller application. The wall was repainted using a longer nap roller sleeve to produce a subtle texture to help mask the underlying imperfections.

Whilst the repainted wall image on the right has removed the application patchiness and the overall appearance is greatly improved, the dark colour coupled with the higher gloss level and high incident light still allows the deficiencies in the substrate to be detected.

The choice of a lighter colour and a product with a lower sheen level would render these imperfections extremely difficult to observe.

In the above example, placing lace curtains, shears or blinds on the window will diffuse the light striking the wall, further improving the overall result. Additionally, breaking the wall up by adding pictures, pedestals or furniture to the room will act to diffuse the light and draw attention away from the unevenness.

If you are unsure of the best products for your painting project or need assistance with the selection of colours, our friendly and knowledgeable staff are more than happy to assist you to ensure you get your project done right the first time.
Share